It is difficult to stand out amongst a stacked ensemble, but you cannot take your eyes off of Eve Hewson as the youngest Garvey sister, Becka. In Bad Sisters, Hewson gives Becka a biting and charming edge to her wayward character, but she is forced to grow up before our eyes as she joins her sisters in revenge against a dastardly and dangerous brother-in-law. Hewson's Becka has a loudly beating heart that you cannot ignore.
Warning: Spoilers to season one of Bad Sisters ahead
In one of the final scenes of the season, all five members of the Garvey sisterhood are swimming together for the first time in the entire season. Anne-Marie Duff's Grace has been kept from her sisters for every other outing, so it is a cathartic moment. What better way to break the tension by Becka cannonballing into Forty Foot? Hewson admits that that one action represents a lot of what Becka stands for.
"It was absolutely a choice," Hewson says. "I remember being on set that day and they asked who should jump in first, and everyone kind of unanimously said Becka. It's the joy of playing her. She is the youngest, but she is the most open and giving and less weathered down by life. She's still got some of that optimism and she believes in people. That's very clear with her relationship with The Prick at the beginning of the season anyway. Becka is very arms wide open and trusting like a little kid. The great thing about playing her was that she is open to a fault–she will jump in first to a fault. She hasn't been burned by life until we see it happen."
Hewson and I talked about how Becka is a character that taps into the uninhibited nature of a child. What she lacks in age, she makes up for in enthusiasm, and she points to some very specific and very fun inspirations for Becka.
"This is such a wrong thing to say, but, in my mind, I had this idea that she is a mixture of characters that I know and love," she says. "There is a British comedian named Caroline Aherne who did The Royle Family but I also saw [Becka] as Boo from Monsters, Inc. I also thought of Donkey from Shrek. It doesn't make any sense, but it does to me. These funny characters and images, to me, made up the soul of Becka. Boo would very much jump in first."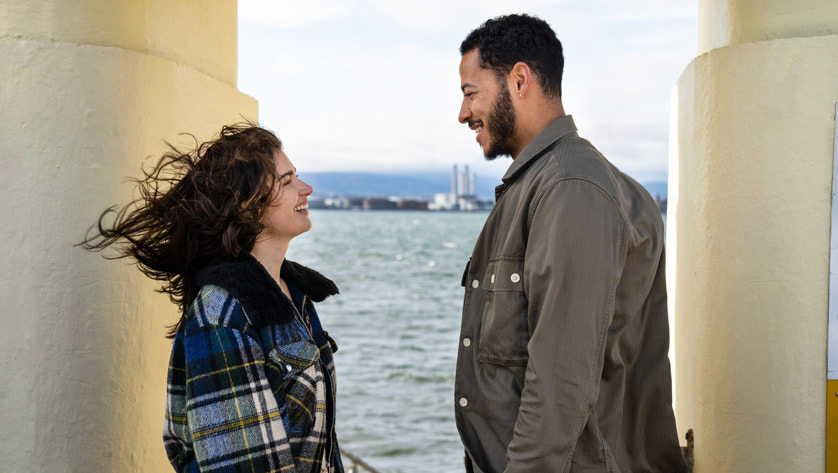 A dangerous but flirtatious dynamic comes in the form of the budding relationship of Becka and Daryl McCormack's Matt, an insurance investigator that happens to be looking into the death of JP. There is a charge between Hewson and McCormack that is hard to define, but these characters cannot stay away from one another. It's a great example of watching characters that make your heart and your brain spar with one another.
"Becka's parents died in a car accident when she was about 3 years old," Hewson reveals. "She wouldn't remember the sound of their voices or what it would feel like for them to hold or hug her. That's very painful. Part of Becka is always searching for that love that she never felt. It can't be given to her by Eva or her sisters, because it's different, isn't it? That's part of her searching to charm men and get that validation that she was never given. That is part of her draw to men in general, but it's particularly true with Matt. He spoke to her in a way that made her feel outside of her family. She was more of a woman with him, and they truly connected through their separate losses. They are united in this specific trauma, and that's why they shouldn't be together. Sharon [Horgan] really mixed it together very well, and I think Daryl is a very deep person. He brings such depth to his character. We didn't sit down and talk about our characters, but we both felt it."
Becka intended to open up a massage studio, but those dreams were dashed by none other than the prick himself. In a seemingly small moment, Becka unabashedly shows Matt the exterior of the building.
"Becka is the kind of character that has had a hundred different careers," she says. "She's a massage therapist but she probably was a yoga teacher and tried this and tried that. Her sisters don't take her seriously, and when she finds something that she loves, nobody saw it that was. It was a Becka thing. It was painful for her that she didn't get her start."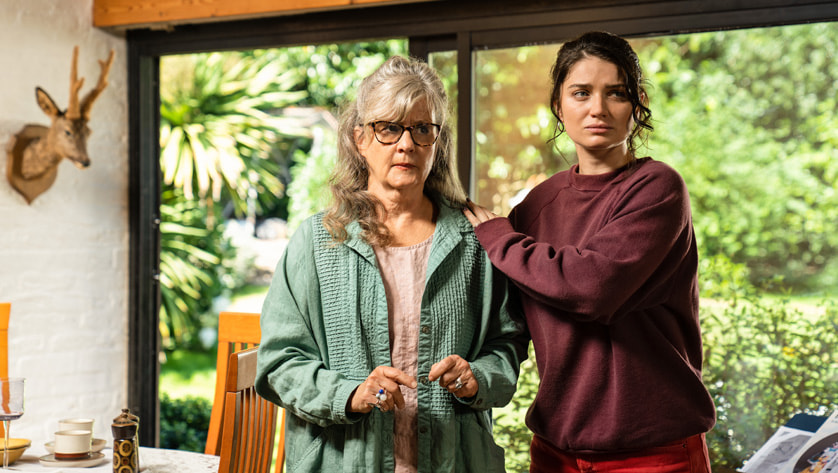 JP is known as The Prick from the very start, but Becka isn't on the same level of disdain as her sisters from the beginning of the season. In a flashback in episode one, Becka is late to a Christmas gathering, and one of the first people she embraces is JP at the dinner table. Even if Eva, Bibbi, and Ursula rage every time Grace's husband appears, Becka isn't at that place yet, and that's very important to see just how evil JP is.
"It ties into the diving in first, I think," she ponders. "Because she is shielded from the reality of Grace and JP's relationship, she's blinder to his behavior. Becka is always out and about and always late, and she's always in her own world. When you're young, you exist in this self-absorbed world, and I think that makes her less tapped into those events. She's very trusting and open. At the beginning of the show, she casually thinks he's a prick, but when she gets her heart broken with him, we see things begin to turn for her. It's a coming-of-age, in a strange way. What he is doing to his sisters and to everyone is so fucked up, and she finally sees that. It's important that Becka is used as an example of what this man can do. All of her sisters know what he's capable of, but it's important to show that in the story a well. She was originally untouched by him, but then she's utterly destroyed by him."
Something Becka cannot get back is her relationship with JP's mother, Minna. Whenever Becka spends time with her, her body relaxes in a way that it doesn't around her protective sisters. Minna's death rocks Becka's psyche, and, surely, we will deal with more fallout in season two of the Apple hit.
"It's such a tragic situation since she views her as a mother figure," she muses. "Minna is so up Becka's alley when it comes to what an older woman can be. It's inspiring to her that Minna is totally herself at that age and she never apologizes for it. Minna has so much to say and so much to give at her age, and that's very exciting for Becka. Minna sees Becka as an adult outside of her sisters, and she sees her as a grown-up–of course that's exciting for Becka. There's a mentorship there. Becka feels incapable of doing anything right, and, unfortunately, she doesn't do right by Minna. It's clear that she's a failure, but then she does this horrible thing to someone who gave her agency, hope, and guidance. It's very traumatic for her."
Bad Sisters is streaming now on Apple TV+.